Caitlin Langley, army reservist and student veteran, received The Inclusive Excellence for Students Award for the 2022-2023 academic year. This award celebrates an App State undergraduate or graduate student who has advanced diversity, equity, inclusion and belonging at App State.
Caitlin currently serves as the Student Veteran Association president and student assistant in the Student Veteran Resource Center. Throughout her time at Appalachian, Caitlin has had a positive impact on her peers and the student veteran resource center as a whole.
Before Caitlin became a Mountaineer, she answered the call to serve and enlisted in the United States Army Reserve as a Horizontal Construction Engineer and Heavy Equipment Operator. She came to Appalachian in 2018 as a first-generation undergraduate student from a rural community in eastern North Carolina. Having completed basic training and advanced individual training for the military, she found her way to the Student Veteran Resource Center. Wanting to get more involved, she quickly became a student employee and got to work.
As a Veterans Affairs work study student, Caitlin began actively working to make the Student Veteran Center more inclusive for all veterans. She consistently advocates for other students and finds ways to make sure everyone feels welcome in the space. Caitlin has a unique talent of finding those who need community and making them feel right at home in the center. Dean of Students Judy Haas is always quick to describe how well she handled a gap in program directors and her ability to keep a student center running without hesitation.
After returning from one of her deployments, she was nominated by her peers to be the first female SVA president. She organized many community-building events and got many other female veterans involved in the center and with the student organization. She is highly respected by other students for her continuing dedication to student veterans as a whole. She also participates in and leads a wide variety of outreach, including visiting lab schools and talking to mini mountaineers about being in the military and collaborating with the Hunger and Health Coalition to ensure Watauga County residents have enough firewood to heat their homes throughout the winter. While her work has been interrupted by multiple deployments and leadership changes, Caitlin continuously jumps right back in and continues to make a difference for student veterans from all backgrounds.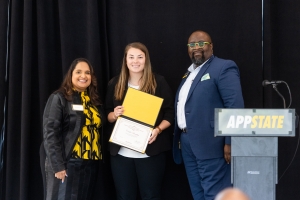 Tags: